Router Login IP Address (Valid for 750+ Manufacturers)
Updated: 10th April 2021
You may not know but your router/modem's IP (also called "Default Gateway IP") is written on a sticker placed on your router's body. It looks like this: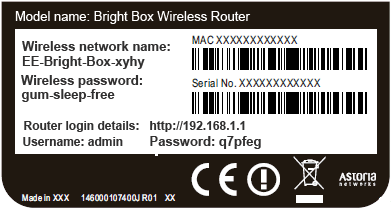 Congratulation! If you have successfully found all the info for login i.e. Login IP, Username & Password. Just use this info to quickly log into admin panel of your device. Or read, if you face any problem.
Problems & Their Solutions
Click at problem statement to reveal the solution.
Problem 1: I have found my IP, its working fine but Username/Password is not working!
Problem 2: IP written on router sticker is not working!
Solution: Hmm. It seems, you or someone having access to device has changed the IP in past - login IPs can be changed. In this case, router reset is the only option.
Problem 3: There is NO sticker on my router OR I cannot physically access my device!
Solution: Oh! If for whatever reason, the same router label is missing or you don't have physical access to your device, then don't get dis-hearted - you can still get your router IP back (along with other credentials). Just watch for your company in this table.
Router Login IPs List
This table is alphabetically sorted, so head-on to your router company below to find desired login IP. Or use "CTRL + F" on Windows or "Command + F" on macOS, and type your company name into the search bar to find it quickly.
There are 750+ router companies with their most likely Login IPs listed below. We have gathered this data from hundreds of sources.
| Company | Login IP |
| --- | --- |
| 100Fio Networks | |
| 1net1 | |
| 2wire | |
| 3BB | |
| 3Com | |
| 3M | |
| 3WARE | |
| 8level | |
| A-Link | |
| Above Cable | |
| ACCELERATED NETWORKS | |
| ACCONET | |
| Accton | |
| ACEEX | |
| Acer | |
| ACorp | |
| Actiontec | |
| Adaptec | |
| ADB | |
| ADC KENTROX | |
| ADDON | |
| ADIC | |
| Adtran | |
| ADVANTEK NETWORKS | |
| Aethra | |
| AGK Nordic | |
| AirLAN | |
| Airlink 101 | |
| AirLive | |
| Airnet | |
| AirRouter | |
| AirTies | |
| ALAXALA | |
| Alcatel | |
| Alcatel Lucent | |
| Alfex | |
| Alice | |
| ALLIED | |
| Allied Data | |
| Allied-Telesis | |
| AllNet | |
| Alpha | |
| Alphion | |
| ALTEON | |
| Alvarion | |
| AM Telecom | |
| Ambit | |
| AMITECH | |
| Amped Wireless | |
| ANDOVER CONTROLS | |
| Ansel | |
| AOC | |
| Aolynk | |
| AOpen | |
| AP Router | |
| APC | |
| Apple | |
| Arcadyan | |
| Arcor | |
| ARECA | |
| ARESCOM | |
| Arris | |
| ARTEM | |
| Articonet | |
| Artnet | |
| Asante | |
| ASCEND | |
| ASCOM | |
| ASMACK | |
| Asmax | |
| ASPECT | |
| ASUS | |
| ATEL | |
| Ativa | |
| Atlantis Land | |
| AT&T | |
| AudioCodes | |
| Aus.Linx | |
| AVAYA | |
| AVM | |
| AWB Networks | |
| Axesstel | |
| AXIS | |
| AXUS | |
| AZiO | |
| Aztech | |
| Bandluxe | |
| Bandridge | |
| Batelco Thomson | |
| Baudtec | |
| Bausch | |
| BAUSCH DATACOM | |
| BAY NETWORKS | |
| Baytec | |
| Beam | |
| bebo | |
| BEC Technologies | |
| Beeline | |
| Beetel | |
| Belgacom | |
| Belkin | |
| Bell | |
| Benq | |
| Best Data | |
| BeWAN | |
| Billion | |
| Binatone | |
| Bintec Elmeg | |
| BlackBox | |
| Blanc | |
| Blitzz | |
| BLUE COAT SYSTEMS | |
| Blue Thunder | |
| BMC SOFTWARE | |
| Bountiful WiFi | |
| bRoad Lanner | |
| BROADLOGIC | |
| Broadnext | |
| BROCADE | |
| BROTHER | |
| BSkyB | |
| BSNL | |
| BT | |
| Bticino | |
| Buffalo | |
| C3-TECH | |
| Cabac | |
| Cable & Wireless | |
| CABLETRON | |
| Calix | |
| Cambridge (CIG) | |
| Cameo | |
| Canyon | |
| Caremo | |
| CastleNet | |
| Cayman | |
| CBN | |
| CD-R King | |
| CELERITY | |
| CELLIT | |
| Cerberus Adsl | |
| CHECKPOINT | |
| ChinaMobile | |
| CIPHERTRUST | |
| Cisco | |
| Clear | |
| CNET | |
| COM3 | |
| Comcast | |
| Compal | |
| Compaq | |
| Compex | |
| CompUSA | |
| Comstar | |
| Comtrend | |
| Conceptronic | |
| Conexant | |
| Corecess | |
| Coredy | |
| Corega | |
| Cosy | |
| Cradlepoint | |
| Creative | |
| Crypto | |
| CT Systems | |
| CTC Union | |
| CTSystems | |
| CYBERGUARD | |
| Cyberoam | |
| Cybersafe | |
| CYCLADES | |
| D-Link | |
| DALLAS SEMICONDUCTORS | |
| Dana | |
| DareGlobal | |
| Dasan | |
| Data Connect | |
| DATACOM | |
| DATAWIZARD.NET | |
| Davolink | |
| DAVOX | |
| DD-WRT | |
| DEERFIELD | |
| Dell | |
| DEMARC | |
| DEUTSCHE TELEKOM | |
| DEVELCON | |
| Dick Smith Elec | |
| DICTAPHONE | |
| Digicom | |
| Digiconnect | |
| DIGICORP | |
| DIGISOL | |
| Digitus | |
| DirecWay | |
| Dovado | |
| Draytek | |
| DS-Link | |
| Dynalink | |
| Dynex | |
| E-CON | |
| E-TEC | |
| EarthLink | |
| Easy Touch | |
| ECHOLIFE | |
| ECI | |
| Ecom | |
| EDIMAX | |
| EE | |
| EFFICIENT NETWORKS | |
| eHome | |
| Eicon Networks | |
| Elcon | |
| ELSA | |
| Eltel | |
| Eltex | |
| Eminent | |
| Encore | |
| Energy Imports | |
| EnGenius | |
| Enkom | |
| ENTERASYS | |
| ENTRUST | |
| Ericsson | |
| ESP | |
| Eusso | |
| Everest | |
| EVERFOCUS | |
| EXABYTE | |
| EXTREME NETWORKS | |
| F5-NETWORKS | |
| FiberHome | |
| Fiberline | |
| Flextronics | |
| FLOWPOINT | |
| Flying Voice | |
| Fortinet | |
| FOUNDRY NETWORKS | |
| FPT Telecom | |
| Franklin Wireless | |
| FREETECH | |
| FreeWiFiLink | |
| FRITZ | |
| FRITZ BOX | |
| Frys | |
| FUNK SOFTWARE | |
| Gateway | |
| Geek ADSL | |
| Geewan | |
| Gembird | |
| Gemtek | |
| Generic | |
| Genexis | |
| Gennet OxyGEN | |
| GERICOM | |
| GetNet | |
| Gezz | |
| GIGA | |
| Gigabyte | |
| Gigafast | |
| GMesh | |
| Gnet | |
| Goldweb | |
| Grandstream | |
| Gravis Plus | |
| Great Speed | |
| Green Packet | |
| GreyFox | |
| GVC | |
| Hama | |
| Hame | |
| Hamlet | |
| Hatari | |
| Hawking | |
| Hewlett Packard | |
| Hiro | |
| Hitron | |
| Hitron | |
| Homeline | |
| HooToo | |
| Hot HotBox | |
| HotBrick | |
| Hotline | |
| HP | |
| Huawei | |
| Humax | |
| Hyundai | |
| iBall | |
| IBLITZZ | |
| IBM | |
| ice.net | |
| ICIDU | |
| Icotera | |
| IDream | |
| IHOI | |
| iiNet | |
| IMAI | |
| Inca | |
| INCHON | |
| Inexq | |
| Infomark | |
| Infosmart | |
| Innacomm | |
| Innoband | |
| Innomedia | |
| Innotech | |
| INTEGRAL TECHNOLOGIES | |
| Intel | |
| Intel/Shiva | |
| Intelbras | |
| Intellinet | |
| Inteno | |
| INTERBASE | |
| Intercross | |
| INTERMEC | |
| INTERSHOP | |
| INTERSYSTEMS | |
| Intertex | |
| INTEX | |
| Intracom | |
| Inventel | |
| IOGear | |
| ION | |
| IPSTAR | |
| IRONPORT | |
| Iskon | |
| Iskratel | |
| ITI | |
| Jaht | |
| JD EDWARDS | |
| JDS MICROPROCESSING | |
| Jensen Scandinavia | |
| Jio | |
| Juniper | |
| Justec | |
| Kaiomy | |
| KALATEL | |
| Kasda | |
| Kcorp | |
| KEEBOX | |
| Keyteck | |
| Kingnet | |
| KingType | |
| Kobian | |
| KONICA MINOLTA | |
| KONIG | |
| Kozumi | |
| KPN | |
| Kraun | |
| KTI | |
| Kyocera | |
| L7 Networks | |
| La Fonera | |
| LANCOM Systems | |
| LanTech | |
| LANTRONIX | |
| LATIS NETWORK | |
| LB-Link | |
| Lectron | |
| Legrand | |
| LevelOne | |
| Leviton | |
| LG | |
| Libyamax | |
| Linetec | |
| Link-Max | |
| LinkPro | |
| LinksKey | |
| Linksys | |
| LIVINGSTON | |
| LOCKDOWN NETWORKS | |
| LOGITECH | |
| LogN | |
| Longshine | |
| Loopcomm | |
| LUCENT | |
| Lucent Technologies | |
| Luxul | |
| MacSense | |
| Mada | |
| Maplin | |
| Marconi | |
| MAXDATA | |
| MaxGate | |
| Maxim Networking | |
| MCDATA | |
| Mecer | |
| MediaLink | |
| MEDIATRIX 2102 | |
| Medion | |
| MEGASTAR | |
| MENTEC | |
| Mentor | |
| MERCURY | |
| MERIDIAN | |
| Microcom | |
| Microlink | |
| Micronet | |
| MICROPLEX | |
| MICROROUTER | |
| Microsoft | |
| MikroTik | |
| MILAN | |
| Minitar | |
| MINOLTA QMS | |
| MINTEL | |
| MITEL | |
| Mitrastar | |
| Mobily | |
| Modecom | |
| MoFi | |
| Monoprice | |
| Motorola | |
| Mototech | |
| MRO SOFTWARE | |
| MS-Tech | |
| MSI | |
| MTN | |
| MTN Hynet | |
| Multilaser | |
| Multitech | |
| MUTARE SOFTWARE | |
| MyMax | |
| MyTech | |
| NAI | |
| NEC | |
| Net-Lynx | |
| NetBox Blue | |
| Netcomm | |
| Netcoretek | |
| Netgate | |
| NETGEAR | |
| NETGENESIS | |
| Netis | |
| NetMaster | |
| Netopia | |
| NETPORT | |
| NETSCREEN | |
| NETSTAR | |
| Netvigator | |
| NETWORK APPLIANCE | |
| Network Everywhere | |
| Neufbox | |
| New Link | |
| Nexian | |
| Nexland | |
| Nexxt Solutions | |
| NGSEC | |
| NIKSUN | |
| NIMBLE | |
| Noganet | |
| Nokia | |
| NORTEL | |
| NovaTech | |
| Novatel Wireless | |
| Nucom | |
| NULLSOFT | |
| O2 | |
| Octtel | |
| OKI | |
| Olitec | |
| OLITEC (TRENDCHIP) | |
| OMNITRONIX | |
| OMRON | |
| On Networks | |
| ONIXON | |
| Ooma | |
| Open Networks | |
| OPENCONNECT | |
| OPENWAVE | |
| OPNsense | |
| Opticom | |
| Option | |
| ORACLE | |
| ORANGE | |
| Orcon | |
| Origo | |
| OSICOM | |
| OTE | |
| Ovislink | |
| Ozenda | |
| Pace | |
| PACIFIC MICRO DATA | |
| PANASONIC | |
| Paradigm | |
| Paradyne | |
| ParkerVision | |
| Pass and Seymour | |
| PCI | |
| pcWRT | |
| Peak | |
| Pegasus | |
| PENRIL DATABILITY | |
| Pentagram | |
| PENTAOFFICE | |
| PENTASAFE | |
| Peplink | |
| Pepwave | |
| PERLE | |
| Pheenet | |
| Philips | |
| Phoebe | |
| PHOENIX | |
| Pikatel | |
| Ping Communication | |
| Pirelli | |
| Planet | |
| Planex | |
| PLDT | |
| Pluscom | |
| Plusnet | |
| POLYCOM | |
| Portal | |
| PowerNet | |
| PRESTIGIO | |
| Primatel | |
| Primus | |
| Primus Lingo | |
| Pro-Nets | |
| Prolink | |
| Promsvyaz | |
| Pronet | |
| Pronets | |
| PROXIM | |
| PSION TEKLOGIX | |
| PTCL | |
| PYRAMID COMPUTER | |
| Q-Tec | |
| Qualcomm | |
| Quanta | |
| Qubs | |
| Quick Eagle Networks | |
| Quicktel | |
| QUINTUM TECHNOLOGIES INC. | |
| Qwest | |
| RadioLabs | |
| RADWARE | |
| RAIDZONE | |
| Ramp Networks | |
| Ramptel | |
| RCA | |
| ReadyNet | |
| RealTek | |
| REDHAT | |
| Reliance | |
| Repotec | |
| RESEARCH | |
| Retail Plus | |
| RICOH | |
| Riger Corporation | |
| RM | |
| ROAMABOUT | |
| Rogers | |
| Rosewill | |
| Ruckus | |
| Sabrent | |
| Safecom | |
| Sagem | |
| Sagemcom | |
| Samsung | |
| SBS | |
| Schimid | |
| Schmid | |
| Scientific Atlanta | |
| Securifi | |
| SENAO | |
| Seowonintech | |
| SERVER TECHNOLOGY | |
| SFR | |
| SHARP | |
| Shenzhen | |
| Shenzhen Gongjin Electronics | |
| Shiro Corp | |
| Shock | |
| Siemens | |
| Sierra Wireless | |
| SIGMA | |
| SIIPS | |
| SILEX TECHNOLOGY | |
| Siligence | |
| Simple Mobility | |
| SITARA | |
| Sitecom | |
| Sitel | |
| Sky | |
| SmallWall | |
| SmartRG | |
| SMARTSWITCH | |
| SMC | |
| SmoothWall | |
| SnapGear | |
| Soho | |
| SohoSpeed | |
| SOLUTION 6 | |
| Solwise | |
| SONIC-X | |
| Sonicwall | |
| Soniq | |
| SORENSON | |
| Sorenson VRS | |
| Sparkcom | |
| SparkLAN | |
| Speedcom | |
| SPEEDSTREAM | |
| SpeedUp | |
| SPEEDXESS | |
| Sphairon | |
| Sphirewall | |
| SPIKE | |
| ST Labs | |
| Starbridge | |
| StarNet | |
| StarTech | |
| Steren | |
| Sterlite | |
| SUN | |
| SUN MICROSYSTEMS | |
| SunRocket | |
| Surecom | |
| Sweex | |
| Swisscom | |
| SWISSVOICE | |
| SYBASE | |
| Symantec | |
| Symbol | |
| Symphony | |
| Synology | |
| T-Com | |
| T-COMFORT | |
| Tactio | |
| TANDBERG | |
| TANDBERG DATA | |
| TANDEM | |
| TDS | |
| Techmade | |
| Technicolor | |
| Tecom | |
| TekComm | |
| TEKLOGIX | |
| TELCO SYSTEMS | |
| TELEDAT | |
| Telekom | |
| Telenet | |
| TELETRONICS | |
| Telewell | |
| Telindus | |
| Telio | |
| Telkom | |
| TELLABS | |
| Telmex | |
| Telrad | |
| Telsec | |
| Telsey | |
| Telstra | |
| Teltonika | |
| Telus | |
| Tenda | |
| Teracom | |
| Teracom Limited | |
| TERAYON | |
| TIARA | |
| Tilgin | |
| TM | |
| Top Global | |
| Topcom | |
| TOPSEC | |
| Tornado | |
| Toshiba | |
| TOT | |
| Totolink | |
| TP-Link | |
| Trellis | |
| TrendChip | |
| TRENDnet | |
| Tricheer | |
| TROY | |
| Trust | |
| TVT SYSTEM | |
| Twister | |
| Ubee | |
| Ubiquiti | |
| Umax | |
| Unex | |
| Uniden | |
| Unihero | |
| UNISYS | |
| UPC | |
| USRobotics | |
| UStec | |
| UTStarcom | |
| V-Link | |
| V-TECH | |
| VASCO | |
| VDC | |
| VERIFONE | |
| VERILINK | |
| Verizon | |
| Viking II | |
| Virata | |
| Virgin Media | |
| VisionNet | |
| VISUAL NETWORKS | |
| Vividwireless | |
| Vivo | |
| Vizio | |
| Vodafone | |
| Volktek | |
| Vonage | |
| Vood | |
| Vtech | |
| VXWORKS | |
| W-linx | |
| WANADOO | |
| WANG | |
| WATCHGUARD | |
| Wateen | |
| Wayjet | |
| Web Excel | |
| Westell | |
| Western Digital | |
| WiFiRanger | |
| Wise | |
| Wisenet | |
| Witpack | |
| X-linx | |
| X-Micro | |
| Xavi | |
| XD | |
| XEROX | |
| Xfinity | |
| Xincom | |
| XLN | |
| Xperio Labs | |
| Xterasys | |
| Xtremeit | |
| XYLAN | |
| XYPLEX | |
| YAKUMO | |
| Zain | |
| ZCOM | |
| ZEBRA | |
| Zero One Tech | |
| Zhone | |
| ZIO | |
| Zioncom | |
| ZoneAlarm | |
| Zonet | |
| Zoom | |
| ZTE | |
| ZXDSL | |
| ZyXEL | |