192.168.0.1 Username & Password

Goto 192.168.0.1
Updated: 7th April 2021
192.168.0.1 is a default login IP for routers belonging to many companies including Arris, Thomson & ZTE. For full list of companies and respective models see below at this page. Login into router is required to change settings like Mac address, bandwidth allocation, and firmware update setting parental controls among other reasons.
List of Routers Companies Using 192.168.0.1
Not all routers are same. Even there are differences between different models of same company. These companies are using 192.168.0.1 as login IP.
List of Possible Username & Password
After extensive analysis, we have come to conclusion that these below presented router manufacturers are using 192.168.0.1 as router login IP. There is a big chance your router company too, is listed amongst them. Just click the company name to view router models, router setup & configuration manuals and more.
Router
Username
Password
2WIRE
(none)
Wireless
ACTIONTEC
(none)
(none)
admin
(none)
admin
password
AMBIT
root
(none)
root
root
user
user - (admin:cableroot)
Billion
(none)
(none)
admin
admin
Cisco
(blank)
(blank)
(none)
cisco
(none)
public/private/secret
(none)
_Cisco
admin
admin
D-Link
(none)
admin
(none)
private
(none)
public
admin
(none)
admin
admin
HUAWEI
admin
admin
TMAR#HWMT8007079
(none)
user
user
KYOCERA
admin
(blank)
admin
admin
n/a
PASSWORD
root
root
Linksys
(none)
admin
admin
(none)
admin
admin
Administrator
admin
comcast
1234
MOTOROLA
(blank)
(blank)
admin
motorola
cablecom
router
n/a
(none)
router
router
MSI
admin
admin
unknown
unknown
NETGEAR
(none)
1234
(none)
private
admin
(none)
admin
1234
admin
admin
NETOPIA
(none)
(none)
admin
(none)
admin
noway
n/a
(none)
netopia
netopia
PLANET
(none)
default
admin
1234
admin
admin
admin
epicrouter
Sitecom
(none)
sitecom
admin
admin
SKY
admin
sky
SMC
(none)
smcadmin
admin
(none)
admin
admin
admin
barricade
admin
smcadmin
SNAPGEAR
1.79 +
Multi
TECHNICOLOR
(leave blank)
(leave blank)
TENDA
admin
admin
TP-Link
admin
admin
admin
ttnet
root
admin
TRENDnet
admin
(blank)
admin
admin
UBEE
user
user
VIRGIN MEDIA
admin
changeme
VODAFONE
root
123456
ZONET
guest
guest
ZOOM
admin
zoomadsl
ZTE
admin
admin
Login into Your Router
Log into your router right now by completing 2 steps below.
Step No. 1
To log into your router is pretty straight forward procedure. Just copy and paste 192.168.0.1 (without http://) into your browser address bar and press Enter. Two things can happen as you hit Enter key; a login screen may appear asking for login details - in this case just proceed to Step No. 2.
Otherwise you may see an error page or may not see any page at all. This simply means the IP you entered (i.e. 192.168.0.1) is not correct login IP for your router. You need to try other popular IPs like 192.168.1.1, 192.168.1.254, 10.0.0.1 etc. See full list of possible IPs router of your company can have; fortunately we have compiled possible IPs for as many as 750+ modem companies. Just select your router company/model to see possible login details.
Easy Way to Find Correct Router Login IP
In addition to above mentioned ways there is another simple way to know your current router IP.
Find Current Router IP in Windows
Regardless of your router's manufacturer or model, there is a surefire way to find its IP address, even if it isn't operating on the default settings. If you're running Windows 10, you can enter "cmd" in the search field and click the top result to access the Command Prompt. Then, in the resulting window, type "ipconfig" to bring up a page with information on your network's connection.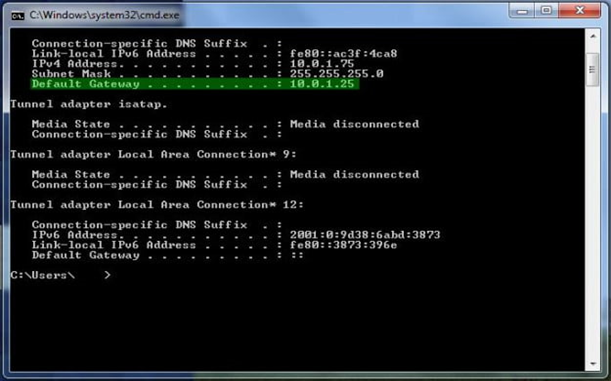 The field marked "Default Gateway" shows the IP address of whatever router you're connected to at the time. For almost all routers, you can enter this IP address in your browser's URL bar to open the admin panel.
Find Current Router IP in MAC
Click the Apple icon then select the System Preferences… option.

Click the Network icon under Internet & Wireless.

The Mac® computer's IP Address, Subnet Mask and the router's IP Address will then be displayed in the Network window.
Quick Tip: If you are using a wireless computer and experiencing issues checking the local IP Address, you can temporarily turn OFF the wireless capability of your computer and connect it to the router using an Ethernet cable to make sure the wired connection is working fine.
Note: Only the Mac desktop and Macbook Pro® have Ethernet ports that can be used for hardwired connection to the router.
Step No. 2
Once you have correct login IP then open a browser window and go to address bar and paste your IP there. Hit Enter key. As you Hit Enter a login screen will appear asking for Username & Password. Now if you haven't changed your password ever in past then it means you have default factory credentials, which you can easily see from sticker placed at bottom or side of your modem body.
Or you can visit our grand list of default router login credentials given for several models of 750+ companies. Find your company from the list and just enter them in login screen and you are all set!
But what to do if I Forgot my Router Username & Password
If you had tinkered with login credentials in past and now looking in blue thinking what to do then don't frustrate! There is quick option to fix it.
Now if you remember, there is a small hole (1-2 mm) at side of router. This is reset button hole. Just take a paper clip, needle or similar thing to insert into it. Press the button inside for at least 5 seconds and release. Now unplug your router and restart.
Doing this you have just reset your router to factory settings. Now you can use factory Username/password from the sticker (placed on your router body) for login.
Similar IPs
Alongside 192.168.0.1 you must also test below IPs.