Wateen Router Admin Login Procedure
Updated: 8th April 2021
To access the Web-based Utility of the modem, launch Internet browser (Internet Explorer or Mozilla Firefox) and enter the router's default IP address (192.168.1.1) in the address field then press the Enter key.
If 192.168.1.1 doesn't works & error appears, then please try these:
A screen will appear asking you for your User name and Password (detail as following picture). Enter "user" (without inverted commas) in the Username field and "user" (without inverted commas) in the Password field. Select the proper language. Then click the login button.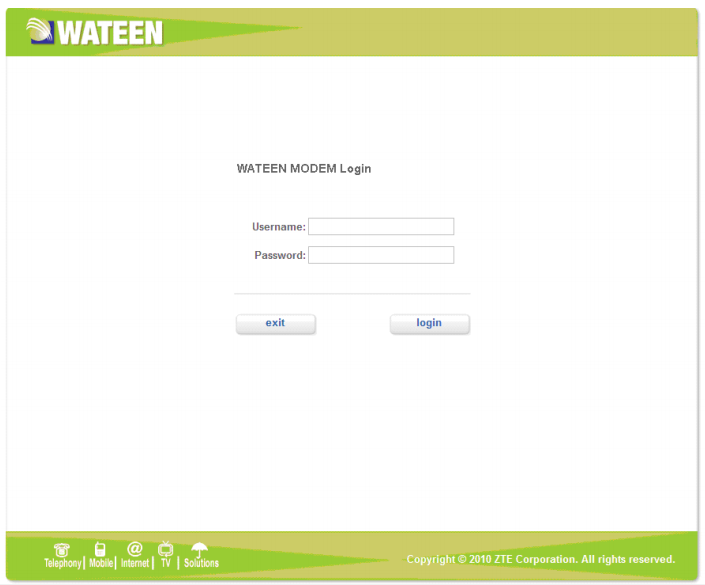 Note: If you click exit button, you will see the following prompt message. To which option, need to click. Either on Yes or No.

When you access the router's setup page, the first screen you see as following: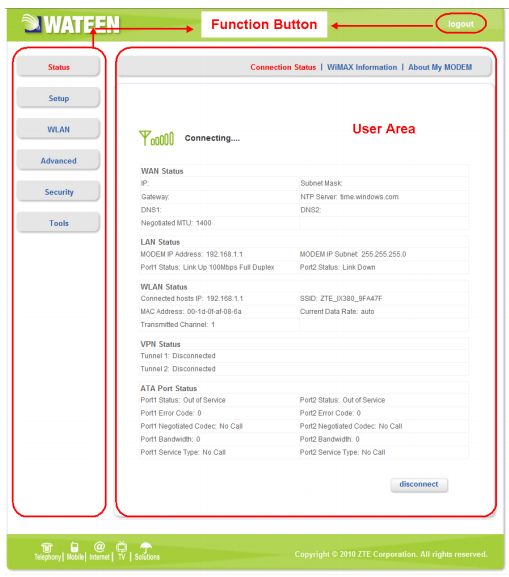 The whole interface is divided into two parts, and related functions can be executed by operation in the related areas.
If the above username/password doesn't work then try these most popular combinations that usually work for Wateen Router models.
| # | Username | Password |
| --- | --- | --- |
| 1 | admin | admin |
| 2 | admin | (none) |
| 3 | admin | password |
Above ID/Pass not working against Wateen? Try these.
Still stuck? If you still can't log into your device, then your device needs to be RESET. Once you RESET, use username "user" & password as "user" and now this time it will work!
Setup Manuals for Wateen Router
These setup & configuration manuals for Wateen are the solution for all your router related problems. Just click on your model to see (and download in PDF) the setup guides for all popular Wateen models.
Click Below To See Desired Manual
Function Buttons you See after Login
After login into Wateen router you will see interface as shown below. The description of each button is as shown below.
Clicking Status link displays status and statistical information for all connections and interfaces.
Clicking Setup link allows you to edit existing connections, and configure other basic settings.
Clicking WLAN link allows you to edit WLAN interface.
Clicking Advanced link allows you to configure advanced features like SNTP, DNS etc.
Clicking Security link allows you to configure Port Forwarding, Port Trigger etc.
Clicking Tools link allows you to carry out system commands and perform simple system tests.
Clicking logout link to exit MODEM setup page manually.
Router Companies Similar to Wateen
These companies are competitor of Wateen & also provide great products.