EDIMAX Router Admin Login Procedure
Updated: 8th April 2021
On any PC or device (like smartphone or tablet), connected to the router, enter the default IP address 192.168.2.1 (router's IP address) into your PC's web browser and press Enter.

If 192.168.2.1 doesn't works & error appears, then please try these:
The login screen below will appear. Enter the Username and Password and then click OK to login. By default the username is "admin" and the password is "1234".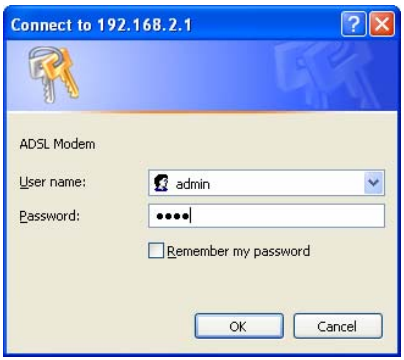 After you successfully log into your router, the homepage screen below will appear. The homepage is divided into seven sections: Quick Start, Interface Setup, Advanced Setup, Access Management, Maintenance, Status and Help.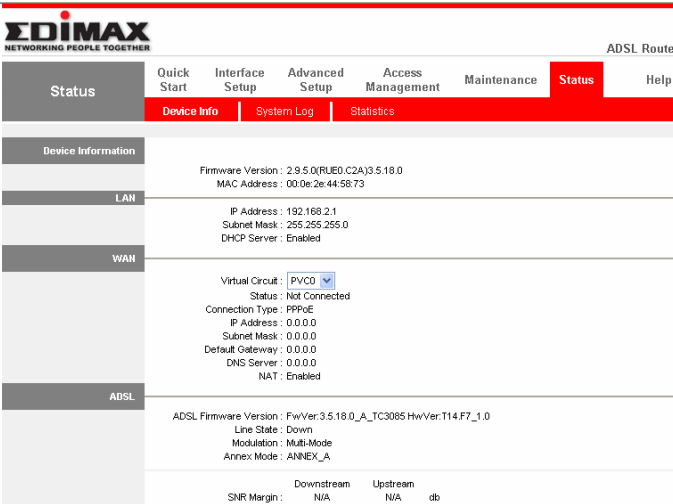 If the above username/password doesn't work then try these most popular combinations that usually work for EDIMAX Router models.
| Router | Username | Password |
| --- | --- | --- |
| EDIMAX BROADBAND ROUTER Rev. HARDWARE: REV A. BOOT CODE: 1.0 RUNTIME CODE 2.63 | admin | 1234 |
| EDIMAX EW-7205APL Rev. FIRMWARE RELEASE 2.40A-00 | guest | (none) |
| EDIMAX ES-5224RXM | admin | 123 |
| EDIMAX WIRELESS ADSL ROUTER Rev. AR-7024 | admin | epicrouter |
Still stuck? If you still can't log into your device, then your device needs to be RESET. Once you RESET, use username "admin" & password as "1234".
Can't Login? Consult Your EDIMAX Router Manual
These setup & configuration manuals for EDIMAX are the solution for all your router related problems. Just click on your model to see (and download in PDF) the setup guides for all popular EDIMAX models.
Click Below To See Desired Manual
View all EDIMAX models manuals.
Note: Once you have configured your PCs to obtain an IP address automatically, the router's DHCP server will automatically give your LAN clients an IP address. By default the router's DHCP server is enabled so that you can obtain an IP address automatically.
Contents of Screen You Will See after Login
After login to router, you will see the screen as below. The description of each screen is given below.
Quick Start

Follow the setup process in the Quick Start, you can quickly set the router as an Internet Access device.

Interface Setup

It allows you to configure the Internet, LAN and Wireless access.

Advanced Setup

This section contains configurations for the router's advanced functions such as Firewall, Virtual Server, DMZ, ADSL Mode, ADSL Type, etc.

Access Management

It allows you to configure ACL, IP Filter, SNMP, UPnP and DDNS functions.

Maintenance

If you want to change the administrator's password, restart the router, update the firmware, diagnose the connection or change the Tome Zone of the router, please select this menu.

Status

The router's setup information, system log and some statistics can be viewed here.

Help

If you want to know about the settings of the router quickly, please refer to the description in the Help menu.
How to Change Password on EDIMAX Router
To change your password of router, just click Maintenance tab, as shown below. In that there will be Administration button. Click it and you will see below given screen.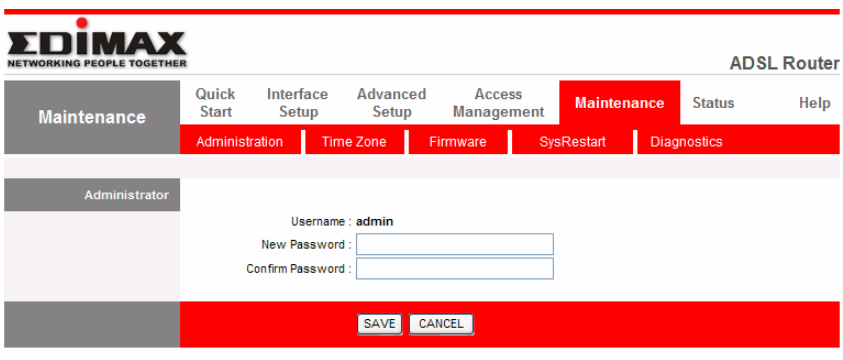 Username: The username of the router is "admin" by default.
New Password: Enter up to 30-digit of the new password.
Confirm Password: Enter the new password again to confirm the setting.
Router Companies Similar to EDIMAX
These companies are competitor of EDIMAX & also provide great products.